Yoast – How to Avoid the Pitfalls and Get the Most out of this SEO Tool
Yoast is a WordPress SEO tool that is potentially really useful but can also ruin your content if you blindly follow its advice.
There are several plugins for various aspects of WordPress (WooCommerce, News, etc.), but today we're going to be looking at the core plugin on the free tier.
We're also going to focus on the on-page analysis tool, as this is where many people stumble.
What does Yoast do?
It's important to understand what the Yoast on-page tool is doing and what it isn't.  That boils down to two things:
Meta Data
The tool allows you to specify a meta page title and meta description. Unlike the page titles and excerpts you can see on your pages and posts, meta titles and descriptions are the fields used by Google and other search engines for search results pages:
If this information hasn't been specified, Google will take its best guess. Specifying it yourself gives you greater control, and it also has SEO benefits.
Analysis
For the most part, Yoast is an analysis tool. The basic idea is that you specify a keyword or phrase that you want to get found for on search engines. The tool looks at the content on your page and gives you feedback using a traffic light system.
With each red or amber light, the tool tells you what you need to do to turn the light green.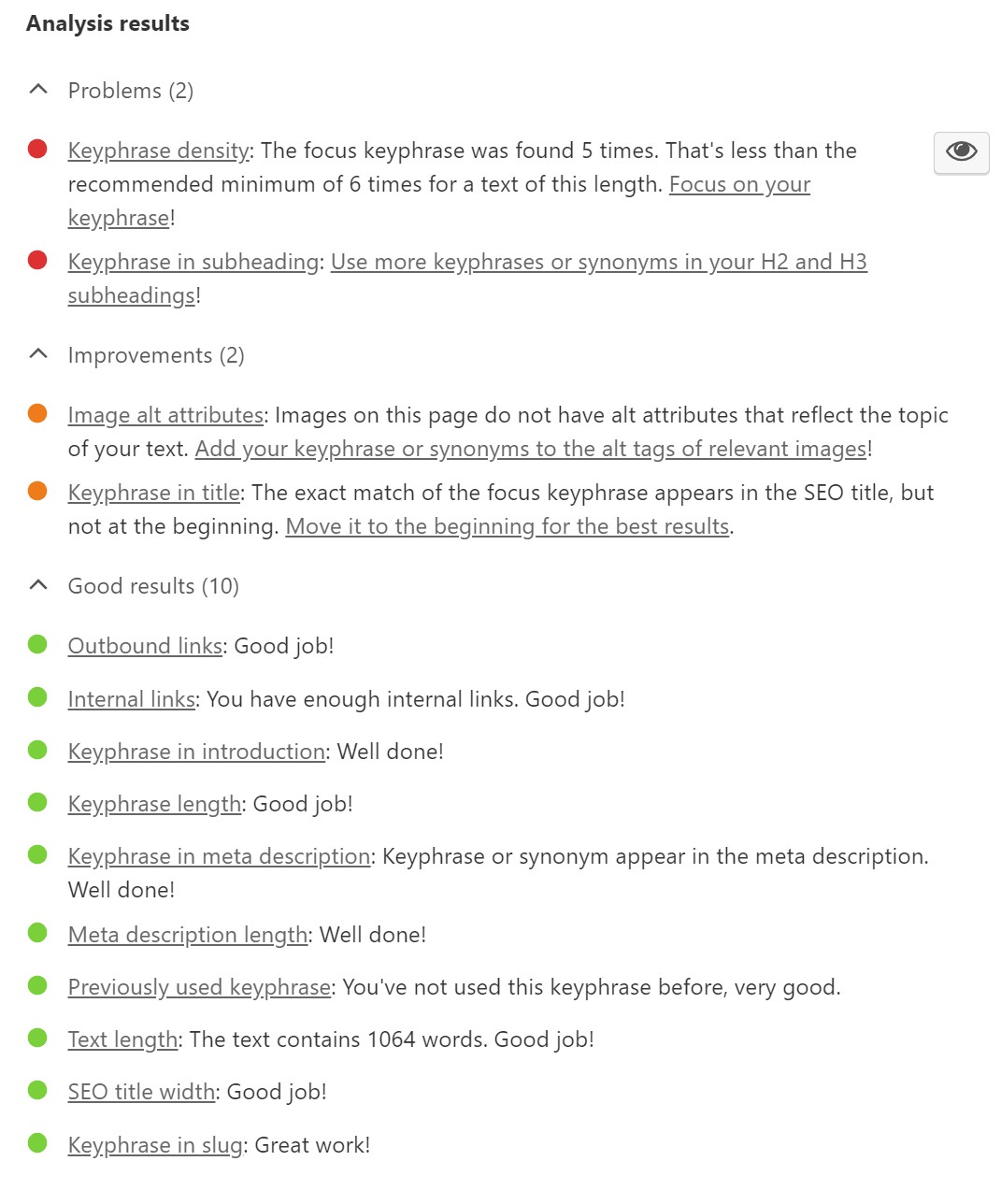 However, getting a green light isn't always the best thing for your content.
Common Mistakes
Let's look at some classic mistakes and the potential consequences.
Sticking strictly to a key phrase
Jade Jones has a bakery in Cheltenham. She wants her business to appear at the top of Google when someone searches for 'bakery in Cheltenham', so she puts that exact phrase into Yoast.
Yoast looks at her page and tells her that she needs to put that phrase in her content two more times. So, Jane looks at her content and makes the following alterations: she changes 'Our well-established bakery is..' to 'Our well-established bakery in Cheltenham is…' and changes 'We are open to the public' to 'Our bakery in Cheltenham is open to the public'.
Jane has got that green light, but at the expense of grammar and clarity. You should always create content for humans first; after all, robots may crawl your site, but they'll never spend any money!
Switching up your key phrases may not always satisfy the traffic light gods, but it will give you better content and potentially greater optimisation.
Phrases, particularly longer ones, don't often lend themselves to appearing multiple times on a single page. Rather than using phrases, I like to look at the components of the phrase individually. So, in Jane's case, analyzing the word 'Cheltenham' and the word 'Bakery' would allow her to optimise for those keywords using natural language and a structure that's genuinely useful to her customers.
Right keyword, wrong action
Roger Riley runs a company that makes stainless steel fixings for the constructions industry. On his website, he has a gallery that showcases the fixings in all their glory. As the page is called 'Gallery', that's the word he puts into Yoast. 30 minutes later, and now his lovely clean gallery page has 300 words that don't need to be there and add no value to the customer.
For some pages, just adding the title and met description is enough. Think about what people actually search for. Optimising for the word 'gallery' will not get Roger onto the first page of Google for that keyword. Even if it did, people would be looking for the Tate Modern, not a practical solution for affixing steel balustrades to plate glass.
Top Tips
Write your content for humans first.
Don't get caught up trying to get all green lights at the expense of your content.
Some pages don't need lots of words,
Choose your keywords while being mindful of what people actually search for,
Run analysis on multiple keywords rather than trying to optimise for a phrase that doesn't fit naturally within your content,
If optimising for something regionally, try and think about what would make the content more relevant for that region, rather than just including the city's name a few times.
The Yoast Traffic Lights
Outbound links
If relevant, add one or more outbound (not on your site) links. However, ask yourself what the user benefit is and if you really want people to leave your site by clicking on the link.
Internal links
Internal links can be handy to your customers and clients. It's usually pretty easy to incorporate a relevant internal link into your content. If you can't think of one, contact us for advice.
Keyphrase in introduction
This is good advice for SEO and for general clarity too.
Meta description length
The idea here is that you take up as much room as possible on your search listing without getting cut off. I try to make the introductory paragraph and the meta description one and the same.
Image alt attributes
Including your keyword in an image alt tag is good as long as the image is relevant to the tag. There is more information on alt tags here.
Text Length
Yoast recommends over 300 words and generally speaking, the more relevant content on the page, the better. However, some pages simply don't need this much (gallery and contact pages, for example) and adding it to them will make for a poor user experience.
SEO Title
The advice Yoast gives you for this one is pretty foolproof.
Keyword Density
The most useful part of this is making sure you don't accidentally overuse a keyword. Don't be afraid to analyse multiple keywords to ensure you're within the threshold. As with all of these other points, don't spoil your content to get a green light.
Make the Most of Yoast
Note – This article may seem a little reductive. Yoast has other features, both off the page (e,g, sitemaps, sitewide schema data, etc.) and on the page (e.g. social preview, robot control). The things that I've covered in this article cover common usage and mistakes. If you take this advice on board and stop chasing that full set of green lights, Yoast can be a very helpful tool indeed.
Having said that, if you can do it without comprises then you should.