Digital Marketing
Digital marketing is an important part of any business. Providing a great product or service isn't enough to make a business successful, particularly if you work within a crowded industry. Being able to harness an increasingly large digital marketplace can be difficult, especially given the diverse and ever-changing set of tools that are available. The good news is that it is no longer necessary to have a huge marketing budget to be able to reach a large, audience. With the help of social media and digital advertising, it is possible to enrich your brand and reach a highly targeted audience at a fraction of the cost of traditional advertising.
A little digital marketing knowledge goes a long way, and we're happy to offer advice to our smaller clients, who wish to tackle most of the marketing themselves. For some of our other clients, we offer a more hands on service, tailor made, and starting with the optimisation of their website, the creation of content, getting them found on search engines and social media.
SEO Search Engine Optimisation
It's crucial to have high-quality content on your website, but there's a big difference between the way that your clients view your pages and the way that search engines see and index your site. The position that your website appears on the results pages of search engines such as Google can make or break a business. Ensuring that your content is well optimised is the first step in securing a higher position. Good content involves understanding the algorithms that search engines use to rank websites, but it's also important to avoid digital marketing SEO pitfalls that can be detrimental to your sites ranking and in some cases, can leave you blacklisted.
With more people logging on using the data on their mobile devices, Google has put an increased onus on a webpage's load speed, when calculating search rankings. Part of our service involves ensuring that the size of each page is a small as possible, without compromising the way it looks.

Content Creation
The Big Dot Company has helped businesses in Gloucestershire by creating videos, images and digital media content for their websites, blogs and social media pages. From articles about health or home appliances, our content conveys the passion that you have for your business and is designed to be advantageous your customers and your online presence.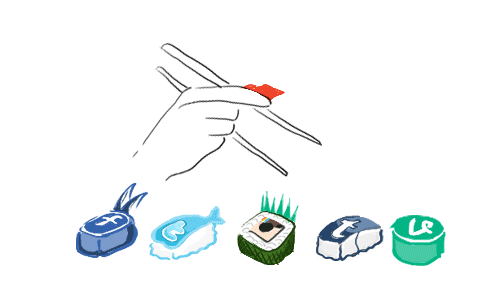 Social Media
One of the most powerful digital marketing tools available to any business is social media. Ironically social media marketing can also be one of the most detrimental, if not used correctly. One of the most common mistakes that businesses make on social media is to set up an account on Facebook, Twitter and Google+, make a few posts and then forget about it. A dead-looking social media account is a feeble reflection on a company, as it is very off-putting to potential customers, who are looking into your business. The trouble that many people have with social marketing is finding time to post regular, consistent content to all of their social media accounts. We're great at sourcing and creating dynamic content for our clients and posting it regularly and at strategically timed intervals for maximum exposure. We can help you find and grow a relevant social media audience.
The Big Dot Company has the experience and expertise to help you set up and run paid Facebook campaigns, which allow you to target potential customers by age, location and even by things that they're interested in!
Google AdWords
There are two ways to get found on Google. The first is known as "Organically" though this can take time and hard work. The second way is via a Pay Per Click (PPC) Campaign, which can put you on page one almost instantaneously, but with a cost every time someone clicks through to your website. The trouble with PPC campaigns is that the budget can soon get out of hand. The best AdWords campaigns start with a well-worded advert, but a successful strategy relies on the budget being optimised to find the right people at the right time so that your return on investment (ROI) exceeds your spend.
Retargeting
Retargeting is a highly effective way of gaining custom from people who have browsed your website but have not yet purchased your product or service. We can create ads that appear on Facebook and around the web, which targets people who have visited your site, within a specified period. You can use this marketing opportunity to improve your offer, or just to remind them that you offer something in which they have already shown an interest.
Case Studies
Big Dot founded what is now the largest digital marketing network outside of London. Digital marketing is a rapidly evolving discipline and connecting with a wide range of digital strategists allows us to stay abreast of emerging trends.
The following case studies are just a few examples of how we've helped different sized businesses with their marketing effort.
Client: Jane T
Business type: Handmade Jewellery
Requirements: Basic digital marketing training
Budget: Low
So far we have helped Jane with a brand and Cheltenham-based website for her jewellery company. Because Jane only has a small budget, the best way to help her with marketing was to provide a few hours of training. While branding and website design is something best left to professionals; a little knowledge can go a long way towards helping small businesses promote their own business. This method worked well for Jane as she had ample time to spend on the self-marketing and great understanding of her company and clients.
Social Media Training
Jane's products are the kind of thing that people actually enjoy seeing on social media, which means services like Facebook, Twitter, Pinterest and Instagram can be a highly effective way of engaging with potential customers. We spent time with Jane going over the specifics of each network and offered advice on how to get the most out of social media with her products. We then taught her how to manage all of her social media accounts from one place and schedule posts for maximum impact.
Content Writing
Posting regular, quality content on your website can be one of the most powerful ways to market a business. We helped Jane to administer her own blog and gave her the tools to assess the quality and SEO value of her content.
Client: Ian S
Business type: National Home Appliances Retailer
Requirements: Modern marketing for a non-traditional subject matter
Budget: Medium
We worked with Ian on the brand and websites for his appliance retail and repair businesses. Marketing the online sales aspect of the business was no small task, as supplying appliances nationally meant competing with extremely large online appliance retailers, such as appliances online.
Google AdWords
For many people, their first experience with AdWords is setting up a campaign and then watching as a daily budget is reached without while never providing a viable return on investment. Using AdWords in a crowded digital market can make it tough to see an ROI, and it's certainly not something that often happens overnight. With Ian's online appliance business, we started with a small daily budget and made regular changes to the campaign based on the results that he was getting. We found the correct formula by adjusting the keyword bid at different times of day in different areas of the country as well as creating region-specific ads. When the cost per conversion yielded a decent return on investment, we simply increased the daily spend.
Social Media
Some businesses lend themselves well to social media posts, however, white goods such as washing machines, fridges and dishwashers don't lend themselves to social media in this sort of way. Home appliances are something people tend to either need or not need, so we had to take a different approach with the social media campaign for Ian's business. We built a social media following base of people over the age of 20 in the UK. We deduced that the majority of this user base would need a home appliance within the next five years. Posting regularly one sites like Facebook help to keep a business in the forefront of people's minds, however, if Ian's followers were inundated with ads for white goods on a daily basis, they would be quite likely to unsubscribe from his page long before they actually their need for a new appliance arose. To solve this problem, we created 366 fridges of the day. Each fridge of the day was simply a white fridge with an image superimposed on the door and a companion fact about something that happened on that particular day in history. This entertaining and inoffensive method of engaging with potential customers meant that Ian's brand stayed at the forefront of his user's consciousness. This strategy was just one of the creative ways in which we used social media to promote a type of business that many companies don't believe can be marketed with this medium.
Client: Rick M
Business type: National Chain of Cosmetic Clinics
Requirements: Social retargeting
Budget: High
Rick's Cheltenham website was now a national franchise thanks to smart online and offline marketing that started with the creation of the brand.
Social Retargeting
Retargeting was one of the best methods of advertising Rick's cosmetic clinics because it allowed us to only show ads to people that we knew were interested in the services. Social retargeting enabled us to utilise the significant amount of time that people within the demographic that were aiming at spend on Facebook. Ads were created and shown to users that matched the ideal criteria and had already visited one of the clinics' websites but had not converted (in this case we classed a conversion as someone who had not made an online enquiry).
Compared to conventional digital ads, retargeting has a much higher conversion rate as it only targets the relevant people.
Every business requires a different digital marketing strategy and The Big Dot Company are proud to have pioneered some highly successful strategies for businesses in Gloucestershire and around the UK.